PRI Orthotics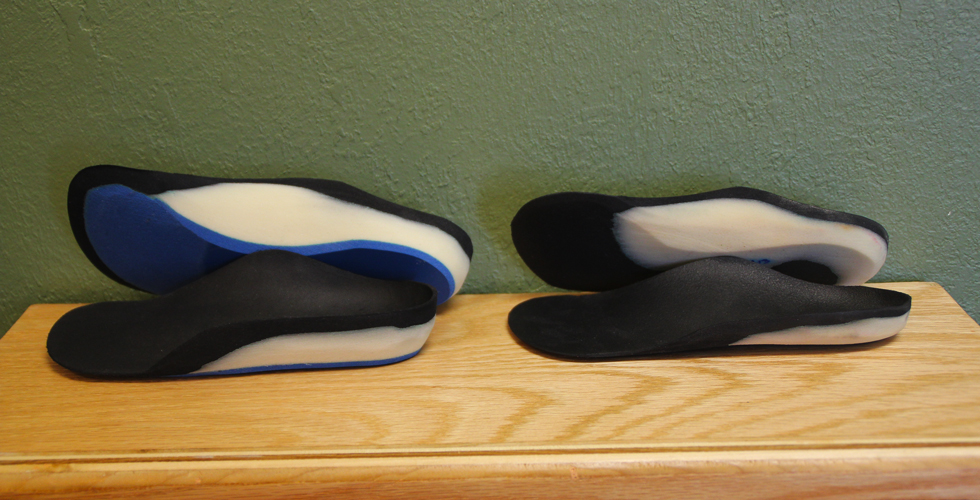 On the left: Regular Orthotics, On the right: Low-profile Orthotics
PRI Orthotics are custom arch supports that are created based on  solid principals of lower extremity biomechanics.  While PRI Orthotics were specifically designed for patients of the Postural Restoration Physical Therapy program, they are offered to many other medical  professionals such as podiatrists, chiropractors, athletic trainers, medical doctors, etc.  
Health care providers often determine that PRI Orthotics may be useful in a patient's course of treatment to help them attain their therapy goals and ensure their lasting success.  PRI Orthotics are shoe inserts that change the mechanics of the feet and lower extremities  to correct foot function.  Dr. Coffin's strategy is to make them highly conformed to the shape of the foot; non-compressible to provide support; and flexible to allow a normal gait cycle.  They are designed to be highly controlling and matched closely to the foot and shoe to achieve this goal.
The materials used are flexible and non-compressible to create a comfortable supportive device.  No hard plastics are used in Dr. Coffin's lab.
To obtain these custom orthotics for their patients, the health care professional uses a common foam impression system.  (Some orthotics labs use a high tech scanning system; however, this is expensive and not reliably accurate.). The therapist or practitioner  will use their knowledge of anatomy to correctly align the foot, knee and leg in optimum position.  (SEE VIDEO) The therapist or doctor will collect relevant information such as shoe size, type of shoes worn, diagnosis, activity level and type of sports participation, if any.
These impressions will be mailed to the PRI Orthotics Laboratory in Sioux City, IA, where Dr. Coffin and his staff will build your custom foot supports from high quality materials.  They utilize measurements, photographs and further information provided by the health care provider to create a truly custom orthotic designed only for the anatomy and symptoms of that patient    The lab mails them back to the therapist or doctor, usually within two weeks of their receipt.  The therapist or doctor dispenses them to the patient and follows their progress, consulting with Dr. Coffin when necessary.
Who can benefit from PRI Orthotics?

  
PRI Orthotics may be recommended and prescribed for a number of reasons: 
to relieve pain in the foot and ankle

to slow down genetic pre-dispositions to foot problems such as bunions, hammertoes, etc.

to address foot problems related to poor foot function such as plantar fasciitis, tendonitis, frequent ankle sprains, etc.

to avoid or postpone surgical procedures being considered for changes in bone structure.

to address conditions that originate in the feet but manifest in the legs, knees, hips or low back

to help ensure the lasting success of your postural restoration program
How PRI Orthotics are unique
Dr. Paul Coffin, a podiatrist from Sioux City, Iowa,  has spent more than 30 years experimenting with and perfecting his orthotic appliances.  He fabricates non-compressible, flexible orthotics that are uniquely matched to the patient's structure, gait and activities.  They are closely conformed to the foot and are  lightweight yet durable.   Dr.Coffin has extensive knowledge and has spent many years researching the biomechanics of the foot.  He works to ensure that the orthotics will line up your joints so they function optimally.  
Dr. Coffin is very involved in the manufacture and personally completes several steps including the finishing of each pair to the specifications provided by the therapists and doctors.   He has studied postural restoration techniques and understands the goals of their program.
With a strong background in biomechanics of the foot and lower leg, Dr. Coffin has always personally fabricated custom orthotics for his own patients.  In response to requests from therapists trained in postural restoration, Dr. Coffin now also makes orthotics for numerous physical therapy, podiatric and other health care clinics.   Although basically the same in purpose and function, PRI Orthotics have several unique characteristics that address the needs of Postural Restoration patients in their therapy programs.
Dr. Coffin introduced PRI Orthotics about ten years ago with the collaboration of Ron Hruska, PT of Lincoln, Nebraska.  Ron is the founder of the Postural Restoration Institute that trains hundreds of physical therapists each year in the principles of Postural Restoration Physical Therapy.
It is the innovative minds of Dr. Coffin and Ron Hruska, PT, both experts in their fields, uniquely combined to pair the biomechanics of podiatric medicine with postural restoration physical therapy.  Their professional skills, along with the genuine interest in helping therapists with their patients, creates PRI orthotics designed to help people function more efficiently by realigning the entire lower extremity.   
Over the counter foot supports are widely available in stores, on television and online.  These inserts may work to some degree but their effectiveness is very limited.  You cannot expect that standing on a machine in a health and beauty department will capture the twists and turns of your foot function as you  walk.  It is kind of like buying standard reading eyeglasses at a discount store. 
 Many other prescription orthotics are created out of a rigid plastic with wedges or pads added to change the foot position.   These may be an effective treatment for some, but Dr. Coffin's  orthotics, highly contoured to the foot, can offer a higher degree of support while still being flexible and extremely comfortable.  The orthotic must be able to flex during the gait cycle while still providing maximum support.    Dr. Coffin has experimented with a variety of chemical polymers and has developed materials of the appropriate density and flexibility.  He also determines which covering material and shock absorbing materials will perform best for each patient based on their foot type and level of activity.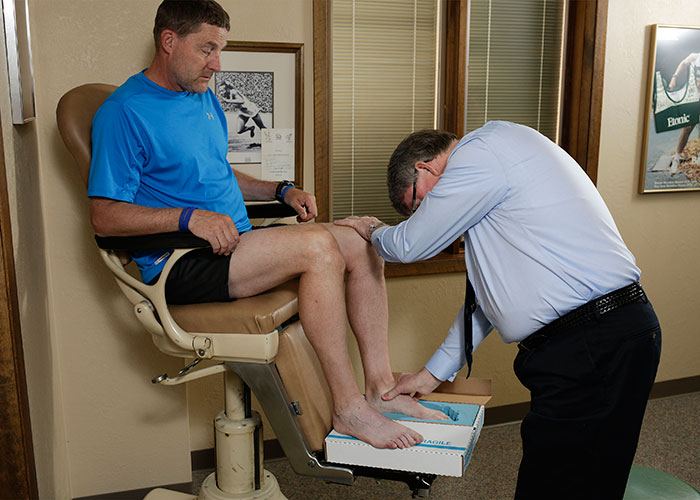 Dr. Coffin takes a semi-weight bearing impression of a patient's foot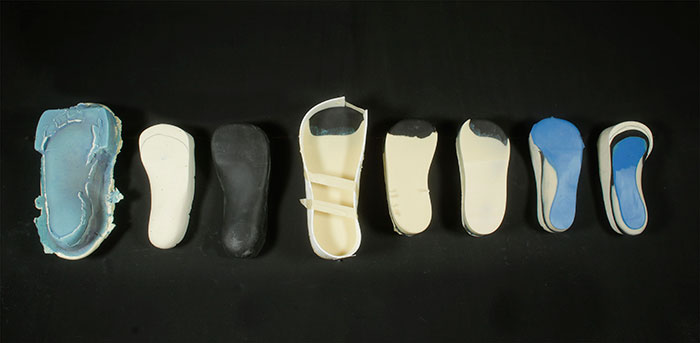 Eight stages involved in building PRI Orthotics.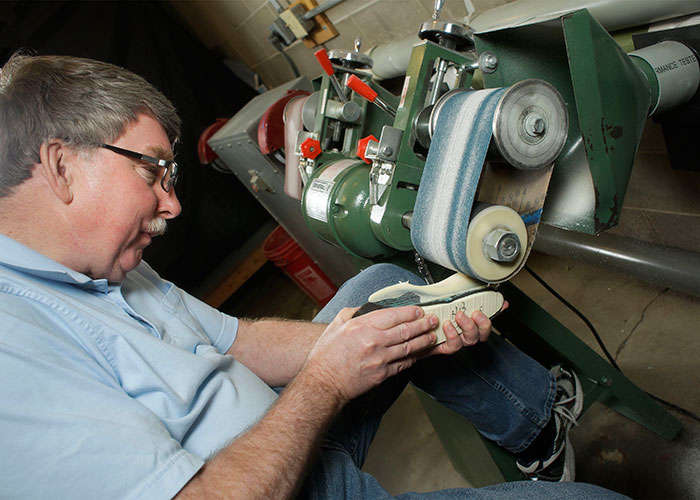 Dr. Coffin grinds the orthotics to create a custom fit.
Frequently Asked Questions