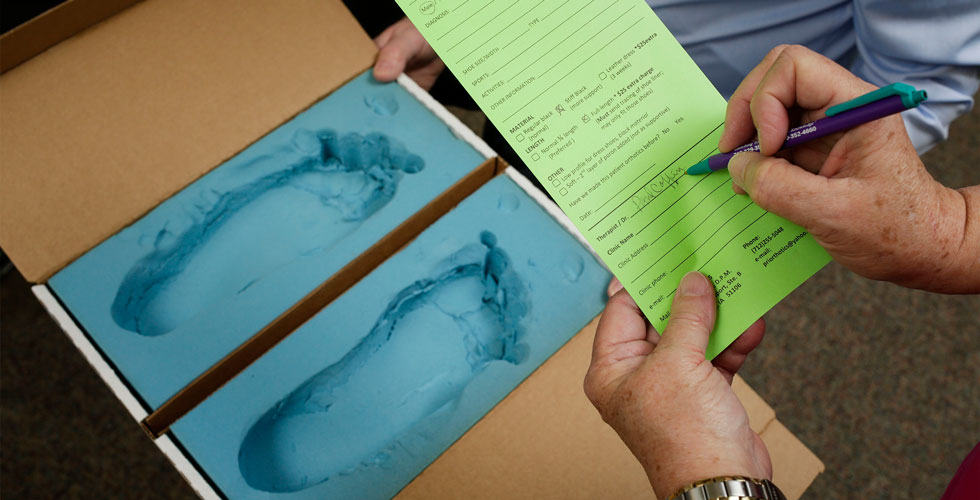 Dr. Coffin's orthotics laboratory accepts foam impression casts.   Since casting is the most important step in getting an effective orthotic and good results, Dr. Coffin has explained each step in a video we advise watching.  See Taking Great Impressions.
Prescription cards are available on which to explain the patient's symptoms, level of activity, age, shoe size, etc.  and the qualities you are looking for in the orthotic.   Photos of the feet may also be included. 
The views Dr. Coffin finds most useful are of the patient laying prone with feet hanging off the edge of the table, with 1) the camera aimed straight down at the heels and 2) the photographer squatting with the camera aimed straight ahead of the patient, capturing ankles, knees, and hips.
We will bill the therapy or medical clinic, and all patient billing and insurance claims are handled through the clinics.
The Importance of Shoes
We encourage therapists and health care providers to counsel their patients about appropriate footwear.  Success with orthotics will depend upon their compliance in wearing the orthotics in supportive shoes the majority of the time. See Shoes 
One of the most common shoe problems is failing to replace shoes when they are worn out.  Shoes need to be replaced as soon as one sees the sole material compress or feels the toe depresssions inside the shoe .
We hope to keep the personal touch in our service and welcome the  opportunity to speak with therapists regarding their patients and their need for PRI Orthotics.
Download the PRI Orthotics Order Form
Fill out online, print, and send in with your impressions.