Footwear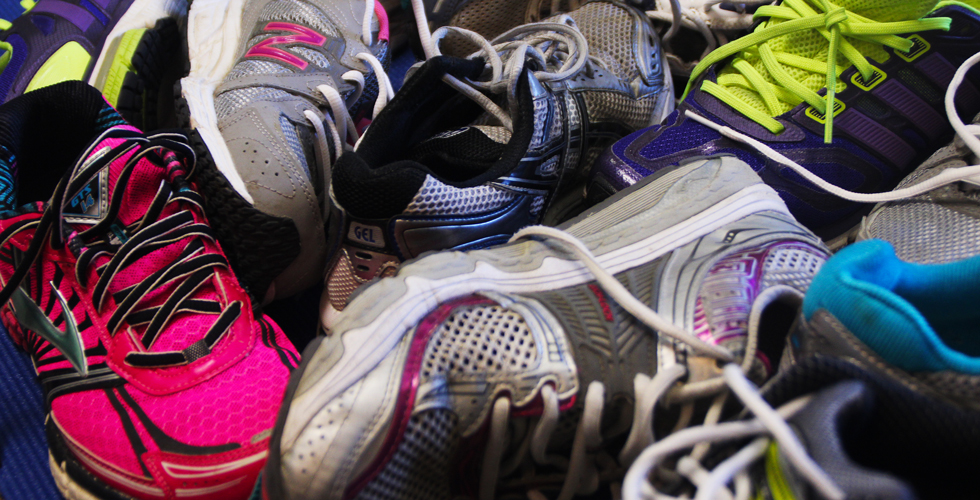 The importance of good shoes
Success with orthotics will depend upon compliance in wearing the orthotics in  good, supportive shoes the majority of the time.
Some foot problems can be solved simply by purchasing and wearing good supportive shoes for everyday and/or sports activities.
Which shoe is best?
Supportive shoes are important for feet, especially for those who are experiencing foot pain.
Since shoe styles change on a seasonal basis, it is difficult to recommend a certain brand or model.  The more expensive shoes are not necessarily better.   It is important to note that shoe companies constantly change the materials and structure of their shoes, even the same model.  What may be a great choice now, may not be appropriate when the next season's shoes are introduced.
Dr. Coffin's "favorite" shoe will change from year to year as shoe manufacturers make changes (good or bad) in their soling material, cushioning, gel, uppers, etc.  Although he may recommend different shoes for different foot types, activities, etc. he has some general "rules for shoes."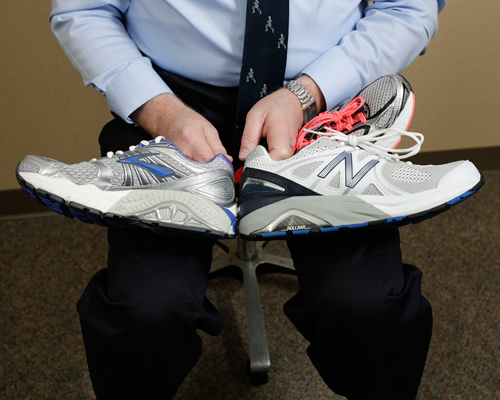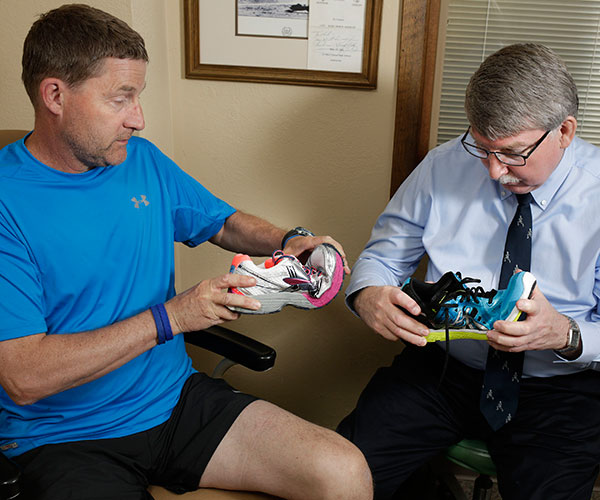 Dr. Coffin's Rules For Shoes: 
Strong heel counter- the heel counter surrounds the heel and needs to be firm  to control the rearfoot and hold your foot straight up.

Bend only across the ball of the foot – where the foot bends naturally while walking, not through the middle.

Non-compressible material in the midsole, does not "give" to finger pressure, especially on the outside of the shoe. Soft materials soon collapse, leaving the foot in a tilted or unstable position.

Tall toe box – roomy enough for toes to avoid nail and toe problems.

Sole that is fairly well filled in at the arch area, not cut out of the midfoot.

Fits snugly across the widest part of the foot.
Tips for shoes 
To accommodate orthotics, patients may have to buy shoes that are one half to one size larger than usual and should wait to purchase new shoes until they have the orthotics to take with them to the shoe store.
Try on shoes at the end of the day.

Don't rely on recommendations from professional athletes or even your friend next door.  Each person's feet are unique and require different characteristics.

Shoes that do not provide stability in the heel will decrease the effectiveness of the orthotics.  It is advisable not to wear  them in slide-in shoes or sandals as they will shift and may crack.

It is a good idea to have your feet measured each time you purchase shoes.   The shoe should fit snugly at the widest part of the foot.

One of the most common shoe problems is failing to replace shoes when they are worn out.  Shoes need to be replaced as soon as one sees the sole material compress or feels the toe depressions inside the shoe.
Lace up the shoes snugly, starting at the bottom.   Unlace your shoes before taking them off and on!