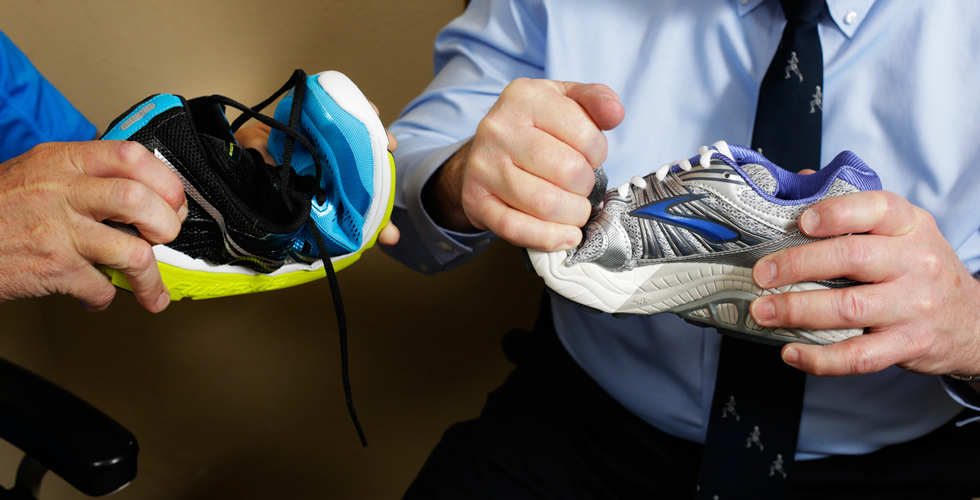 Footwear can cause or aggravate certain foot conditions and Dr. Coffin likes to evaluate the shoes you wear for everyday, work and/or athletic activities.    Patients are asked to bring along one or two extra pair of shoes that you wear frequently so that he can evaluate their effect, if any, on your foot pain.   If you have shoes particular to a kind of sport, please bring those as well.  People who wear special shoes or boots for work should bring them.   He would also like to see current braces or orthotics.
The cause of pain for many people can be the manner in which your body is aligned and the way you walk or run.  Athletes and other active people often benefit from an extensive biomechanical evaluation. 
During this exam, Dr. Coffin will take measurements, watch you walk and discuss his findings with you in detail, with suggestions for stretching, footwear and how to proceed with training or daily activities to avoid further injury.  
If you are scheduled for a sports exam or have concerns about your gait, please wear athletic shoes and comfortable clothing such as shorts or loose pants that can be rolled above your knees. Please do not wear tight jeans for your first evaluation appointment. 
You will bring along the completed New Patient forms which you have printed off our website or received in the mail. If you prefer, you can arrive 15 minutes early to complete the necessary paperwork.
We will need a copy of your insurance card(s) and will bill your insurance company; however it is your responsibility to check to see if Dr. Coffin is a participating provider with your plan.  You may also wish to call the member number on your card to ask if custom orthotics are a covered benefit. 
As with most custom medical devices, orthotics represent a significant cost, similar to eyeglasses.  They are a conservative  treatment, often delaying or eliminating the need for more invasive and expensive options such as surgery.   Although we feel insurance companies should be anxious to cover orthotics , most do not.  Most flex spending accounts will cover the cost of orthotics.
We do require a deposit at the time impressions are taken and will reimburse the patient if we receive payment from the insurance company.  We accept cash, checks or credit cards. We'll be happy to help set up a monthly payment plan.  Please call the office if you have questions about charges and payments.